Éwé
Facts
Language: Éwé
Alternate names: Ebwe, Efe, Eibe, Eue, Eve, Gbe, Krepe, Krepi, Popo, Vhe
Language code: ewe
Language family: Niger-Congo, Volta-Congo, Kwa Volta-Congo, Gbe, Western Gbe, Eweic
Number of speakers: 3112000
Script: Braille script. Latin script, used since 1850s, primary usage.
More information:
Introduction
Ewe is a language spoken in Togo and southeastern Ghana by approximately 4.5 million people as a first language and a million or so more as a second language. Ewe is part of a cluster of related languages commonly called Gbe; the other major Gbe language is Fon of Benin. Like many African languages, Ewe is tonal.
The Éwé Verb
Ewe is an aspect rather than a tense language. Habitual aspect is the only category marked on the verb by a toneless suffix (n)a which inherits its tone from the preceding syllable. Preverbal markers express various modal and aspectual categories such as vá 'ventive, eventually'.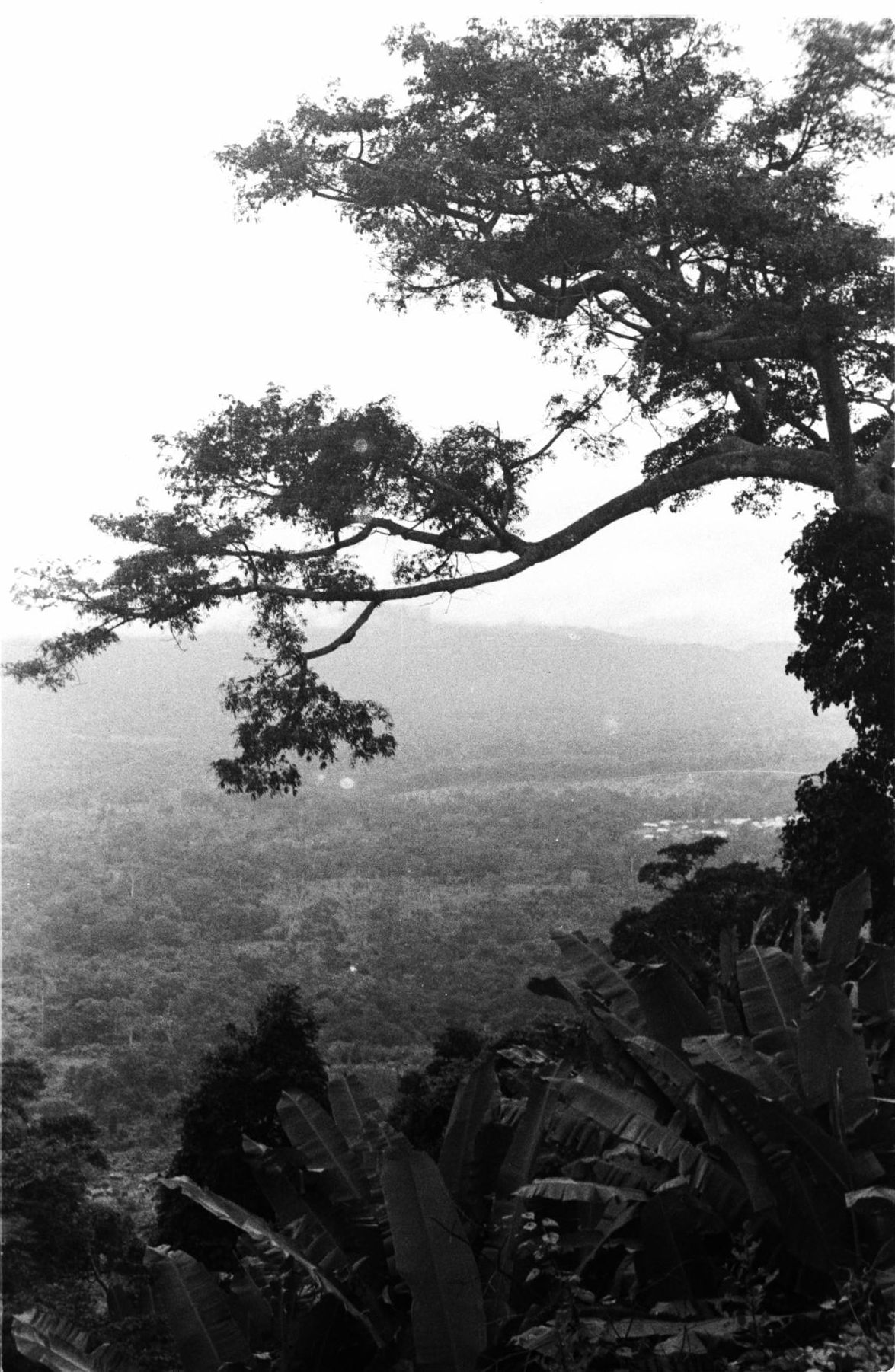 Landscape in Togo.
A bare verb or the aorist form has a past semantics. For active verbs this signals a past occurrence of the action. For inchoative verbs it indicates the prior occurrence of the change of state, hence the state is current. The POTential can have future time interpretation in context. All these temporal interpretations can be reinforced by adverbials. The POTential and the SUBJUNCTive are mutually exclusive with the HABitual.
Éwé Verb Conjugation
yi 'to go' profixed with subject pronouns mè, è, mí, mì, and wó.
| Person | Aorist | Progressive Present | Progressive Past |
| --- | --- | --- | --- |
| Sg.1 | mèyi | mèle yiyiḿ | mènɔ yiyiḿ |
| Sg.2 | èyi | èle yiyiḿ | ènɔ yiyiḿ |
| Sg.3 | èyi | èle yiyiḿ | ènɔ yiyiḿ |
| Pl.1 | míyi | míle yiyiḿ | mínɔ yiyiḿ |
| Pl.2 | mìyi | mìle yiyiḿ | mìnɔ yiyiḿ |
| Pl.3 | wóyi | wóle yiyiḿ | wónɔ yiyiḿ |
As shown in the table above, transitive verb forms the progressive by reduplicating the verb whereas transitive verbs simply attach the ending -ḿ.
Ingressive Aspect: mèle yiyí gé, etc.
Imperative: Sg. yi! (citation form of the verb), Pl. mìyi!
Habitual: mèyina, etc.
Future Tense: mǎyi, ǎyi, áyi, míáyi, mìáyi, wóáyi. Future marker is -á-
Verblist
bi dzi
di
do dziku
drɔ̃ ʋɔnu
dze
dzesi
dzo
fa konyi
fia
fli
fo
ka
ko
kpe
kpɔ
kpɔ dziku
ku
lala
mlɔ anyi
no
nye
nyi
si
susu
ta
te
to
trɔ
tsi
tsi dzi
tsitrɛ
tso
tu
tɔ
wɔ
wɔ dɔ
xe
xɔ
yɔ
zɔ
ŋe
ŋlɔ
ɖa
ɖekuku
ɖu ɣe
ƒo aɖegbe
ƒo ʋu
ƒu du
ba ame -- cheat s.o. (to)
be -- hide oneself (to)
be ame -- hide s.o. (to)
bi -- burn (to)
blǎ -- tied (to be)
blǎ nú -- tie sth. (to)
bu akɔ́nta -- calculate (to)
bu akɔ́nta -- work out a problem (to)
bu nú -- calculate sth. (to)
bu nú -- reckon sth. (to)
bu tǎ me, ɖe súsú -- think (to)
bě nú, ke nú -- say sth. (to)
bǐá -- ask (to)
bǐá -- request (to)
bǐá gbe ame -- question s.o. (to)
bǐá, bǐá bé -- demand (to)
bǔ -- lost (to be)
bǔ nú -- lose sth. (to)
bɔbɔ -- easy (to be)
bɔbɔ -- soft (to be)
bɔ̌ nya, gblɔ nya -- tell (to)
da asabu -- throw a net (to)
da dɔ ná ame -- cure s.o. (to)
da dɔ ná ame -- heal s.o. (to)
da gbě le ame ŋú, wɔ -- treat s.o. (to)
da tú -- fire a gun (to)
da tú -- shoot (to)
de -- have been to (to)
de agble -- farm (to)
de sukú -- attend school (to)
de sukú -- go to school (to)
de teĎ -- visit a place (to)
de, ɖǒ, vǎ ɖó -- arrive at (to)
didi -- long (to be)
do gǒ -- go out (to)
do nú -- put on sth. (to)
dze agbagbá -- try (to)
dze agbagbá -- attempt (to)
dze ame dzí -- appeal to s.o. (to)
dze ame gbɔ́ -- stay at s.o.'s place (to)
dze ame gbɔ́ -- stay with s.o. (to)
dze ame yome -- follow s.o. (to)
dze dɔ, xɔ dɔlélé -- fall ill (to)
dze dɔ, xɔ dɔlélé -- fall sick (to)
dze klo -- kneel (to)
dze mɔ́ -- start a journey (to)
dze sí ame -- recognise s.o. (to)
dze sí nú -- recognise sth. (to)
dze xɔ́lɔ̃ ame -- befriend s.o. (to)
dze édzí -- turn out well for s.o. (to)
dze ŋe -- lie face up (to)
dze ŋe -- lie on one's back (to)
dzi ame, dzi vǐ -- bring forth s.o. (to)
dzi ha -- sing (to)
dzi vǐ -- deliver a child (to)
dzi ɖé édzí -- increase (to)
dzi ɖé édzí -- multiply (to)
dzo -- fly (to)
dzo kpó -- jump (to)
dzra nú -- keep in safe custody (to)
dzra nú ɖó -- repair sth. (to)
dzra ɖó -- get prepared (to)
dzra ɖó -- get ready (to)
dzrǎ nú -- sell sth. (to)
dzu ame -- abuse s.o. (to)
dzu ame -- insult s.o. (to)
dzudzɔ -- rest (to)
dzĩ -- red (to be)
dzǒ -- depart (to)
dzǒ -- leave (to)
dǎ akpé ná ame -- thank s.o. (to)
dǐ ame -- look for s.o. (to)
dǐ ame -- search s.o. (to)
dǐ nú -- look for sth. (to)
dǐ nú -- search sth. (to)
dǐ nú -- want sth. (to)
dǐ nú -- wish sth. (to)
dǐ nú vévíé -- yearn for sth. (to)
dǒ ame kpɔ́ -- examine s.o. (to)
dǒ awu -- dress up (to)
dǒ dzi ɖé ame ŋú -- trust in s.o. (to)
dǒ dzo -- kindle a fire (to)
dǒ dzo -- set a fire (to)
dǒ gbe ná ame -- greet s.o. (to)
dǒ gbe ɖá -- pray (to)
dǒ go ame, kpě ame -- meet s.o. (to)
dǒ go, kpě tǎ -- meet (to)
dǒ mɔ́ -- set s.o. on a journey (to)
dǒ nú kpɔ́ -- examine sth. (to)
dǒ nú kpɔ́ -- test sth. (to)
dǒ nú kpɔ́ -- try sth. (to)
dǒ sɔ́ -- ride a horse (to)
dǒ vɔvɔ̃́ ná ame -- frighten s.o. (to)
dǒ ŋugbe -- promise (to)
dǒ ŋusẽ ame -- encourage s.o. (to)
dǒ ɣli -- shout (to)
dɔ wu ame -- hungry (to be)
dɔme le ame véḿ -- angry (to be)
dɔ̌ alɔ̃ -- sleep (to)
dɔ̌ ame -- send s.o. (to)
fa aví -- cry (to)
fa aví -- weep (to)
fa aví vévíé -- cry bitterly (to)
fa aví vévíé -- weep bitterly (to)
fa dzidzɔví -- shed tears of joy (to)
fi fi -- pilfer (to)
fi fi -- steal (to)
fě -- play (to)
fǎ -- cold (to be)
fǎ -- cool (to be)
fǐá -- burnt (to be)
fǐá nú -- burn sth. (to)
fǐá nú -- show sth. (to)
fǐá nú -- teach sth. (to)
fɔ nú -- collect sth. (to)
fɔ nú -- discover sth. (to)
fɔ nú -- find sth. (to)
fɔ̌ -- get up from a lying position (to)
fɔ̌ fú -- pregnant (to be)
gblẽ̌ -- bad (to be)
gblẽ̌ -- wrong (to be)
gblẽ̌ ame -- leave s.o. behind at (to)
gblẽ̌ ame ɖi -- leave s.o. behind (to)
gblẽ̌ nú -- spoil sth. (to)
gblẽ̌ nú ɖi -- leave sth. behind (to)
gblẽ̌ nú ɖé -- leave sth. behind at (to)
gblɔ nya -- say (to)
gblɔ nya, bɔ̌ nya -- narrate (to)
gblɔ ná ame -- say to s.o. (to)
gblɔ ná ame -- tell s.o. (to)
gbã -- broken (to be)
gbã nú, ŋě nú -- break sth. (to)
gbã, gblẽ̌ -- spoilt (to be)
gbě -- refuse (to)
gbɔ -- back (to be)
gbɔ -- breathe (to)
glɔ̃̌ -- crooked (to be)
gě ɖé nú me -- enter sth. (to)
gě, mu, dze anyí -- fall (to)
he nú vɛ̂ -- bring sth. as a result (to)
he tó ná ame -- punish s.o. (to)
he ɖɔ̌ -- drag a net (to)
he ɖɔ̌ -- draw a net (to)
hǐã́ nú -- need sth. (to)
hǎyá, sẽ̌ -- get well (to)
hǎyá, sẽ̌, lãme sẽ́ -- recover (to)
kaka ɖé -- scatter (to)
kaka ɖé -- spread over (to)
kã̌ ɖé nú -- certain about sth. (to be)
kã̌ ɖé nú dzí -- sure about sth. (to be)
ke nu -- open the mouth (to)
ke nu -- utter sth. (to)
ke ɖi -- argue (to)
ke ɖi -- compete (to)
ke ɖi -- doubt (to)
ke ɖé nú -- find sth. accidentally (to)
ke ɖé nú ŋú -- come upon (to)
keke -- broad (to be)
klã̌ -- part (to)
klã̌ -- separate (to)
klẽ̌ ŋu -- greedy (to be)
ko alɔ́gbɔ́núí -- smile (to)
ko nú -- laugh about sth. (to)
kpa nú -- carve sth. (to)
kplǎ así kɔ ame, -- embrace s.o. (to)
kplɔ ame -- accompany s.o. (to)
kplɔ ame -- lead s.o. (to)
kplɔ nú -- sweep sth. (to)
kpui -- short (to be)
kpui, bɔbɔ -- low (to be)
kpě ame -- invite s.o. (to)
kpě ɖé ame ŋú -- help s.o. (to)
kpɔ̌ -- have mercy on s.o. (to)
kpɔ̌ -- look at sth. thoughtfully (to)
kpɔ̌ ame dzí -- look after s.o. (to)
kpɔ̌ ame dzí, tsɔ̌ ɖě -- care for s.o. (to)
kpɔ̌ ame ɖá, srã̌ ame -- visit s.o. (to)
kpɔ̌ dzidzɔ̌ -- happy (to be)
kpɔ̌ dzǐdzedze -- succeed (to)
kpɔ̌ ga -- rich (to be)
kpɔ̌ mɔ́ ná -- look forward to s.o. (to)
kpɔ̌ mɔ́ ná -- look forward to sth. (to)
kpɔ̌ mɔ́ ná ame -- expect s.o. (to)
kpɔ̌ mɔ́ ná nú -- expect sth. (to)
kpɔ̌ nú -- bewilderment (to)
kpɔ̌ nú -- gaze absent-mindedly (to)
kpɔ̌ nú -- look absent-mindedly (to)
kpɔ̌ nú dũũ ́ ́ -- gaze at sth. (to)
kpɔ̌ nú dzí -- look after sth. (to)
kpɔ̌ nú dzí -- take care of sth. (to)
kpɔ̌ núblánúí -- feel pity for s.o. (to)
kpɔ̌ nú -- look at sth. (to)
kpɔ̌ nú -- see sth. (to)
ku aha ná -- serve s.o. a drink (to)
ku nú kɔ -- sling sth. on the neck (to)
kǎfú ame -- congratulate s.o. (to)
kǎfú ame -- praise s.o. (to)
kǔ -- die (to)
kɔ -- clean (to be)
kɔ -- neat (to be)
kɔ -- without sin (to be)
kɔ aha ɖí -- pour libation (to)
kɔ nú ɖé -- pour sth. to (to)
kɔ nú ɖí -- pour sth. (to)
kɔ̌ -- high (to be)
kɔ̌ -- tall (to be)
kɔ̌ gbe dzǐ -- raise one's voice (to)
kɔ̌ gbe dzǐ -- speak out (to)
kɔ̌ gbe dzǐ -- speak up (to)
le (Past nɔ) -- be somewhere (to)
le así me -- be in s.o.'s hand (to)
le así me -- in s.o.'s hands (to be)
le tsi -- bath (to)
le tsi -- take a bath (to)
le ɖoɖó nu -- be in order (to)
le ɖoɖó nu -- in order (to be)
lii (Present), nɔ (Past) -- exist (to)
lii (Present), nɔ (Past) -- live (to)
lolo -- big (to be)
lolo -- fat (to be)
lolo -- large (to be)
lãme gblẽ́, lě dɔ -- sick (to be)
lě dɔ -- ill (to be)
lě nú -- catch sth. (to)
lě nú -- hold sth. (to)
lě nɔvísí -- hold together (to)
lě ŋkú ɖé nú ŋú -- watch sth. (to)
lě ŋkú ɖé nú ŋú -- observe sth. (to)
lɔ̃ -- agree (to)
lɔ̃ ame -- like s.o. (to)
lɔ̃ ame -- love s.o. (to)
lɔ̃ gbe -- exchange greetings (to)
lɔ̃ nú -- love sth. (to)
me légba -- model an idol (to)
me légba -- mould an idol (to)
mi nú -- eat sth. (to)
mi nú -- swallow (to)
mli -- roll over (to)
mlɔ̌ -- lie (to)
mlɔ̌ anyí -- lie down (to)
mlɔ̌ nú -- lay sth. (to)
mǎ mɔ́ -- part company with (to)
mǎ nú -- divide sth. (to)
mǎ nú -- share sth. (to)
no nú -- drink sth. (to)
nya nú -- wash sth. (to)
nyrě nú -- sharpen sth. (to)
nyě -- be something (to)
nyǎ ame -- know s.o. (to)
nyǎ nú -- know sth. (to)
nyǎ nú ("to know -- intelligent (to be)
nyǒ -- beautiful (to be)
nyǒ -- nice (to be)
nyǒ dɔme -- generous (to be)
nyǒ dɔme -- kind (to be)
nyǒ tǎ -- excellent (to be)
nyǒ tǎ -- splendid (to be)
nyǒ tǎ -- very good (to be)
nyǒ, nyǒ tǎ -- good (to be)
nǎ nú -- give sth. as a present (to)
nǎ ŋusẽ ́ame -- empower s.o. (to)
nɔ (only in Past) -- stay (to)
nɔ agbe didǐ -- live long (to)
nɔ anyí -- take a seat (to)
nɔ nú teƒé -- present at sth. (to be)
nɔ nú teƒé -- witness sth. (to)
se nú -- hear sth. (to)
se vevé -- feel pain (to)
sẽ̌ -- difficult (to be)
sẽ̌ -- hard (to be)
sẽ̌ -- strong (to be)
srã̌ ame kpɔ́, kpɔ̌ -- pay s.o. a visit (to)
srɔ̃̌ nú -- learn sth. (to)
sǎmá ame -- summon s.o. (to)
sǐ -- escape (to)
sǐ -- run away (to)
sǔbɔ́ ame -- serve s.o. (to)
sǔbɔ́ ame -- worship s.o. (to)
sǔbɔ́ nú -- serve sth. (to)
sǔbɔ́ nú -- worship sth. (to)
sǔsú nú -- imagine sth. (to)
sɔe -- few (to be)
sɔe -- little (to be)
sɔe -- small (to be)
te ɖé nú ŋú -- get near to sth. (to)
tri -- thick (to be)
trɔ̌ -- change (to)
trɔ̌ -- turn (to)
trɔ̌ gbɔ -- return (to)
trɔ̌ gbɔ, trɔ̌ vá -- come back (to)
trɔ̌ mo ɖé ame, trɔ̌ -- face s.o. (to)
trɔ̌ mo ɖé nú, trɔ̌ -- face sth. (to)
trɔ̌ yi -- go back to (to)
trɔ̌ ɖé nú ŋú -- turn to sth. (to)
tsa -- wander about (to)
tsa ŋkú -- look around (to)
tsa, ɖi tsa -- go sightseeing (to)
tsi -- grow up (to)
tsikɔ́ wu ame -- thirsty (to be)
tso -- interrupted (to be)
tso ame nu -- report s.o. (to)
tso du -- found a town/village (to)
tso nú -- cut sth. (to)
tso nú -- fell sth. (to)
tso nú -- slaughter sth. (to)
tsrɔ̃̌ nú -- destroy sth. (to)
tsrɔ̃̌ nú -- eliminate sth. (to)
tsyɔ́ akɔ́ -- lie on the stomach (to)
tsyɔ̃e -- pointed (to be)
tsǐ megbé -- late (to be)
tsǐ megbé -- remain behind (to)
tsǒ -- come from (to)
tsǒ ɖé ame -- revolt against s.o. (to)
tsǒ ɖé ame ŋú -- rise against s.o. (to)
tsǒ, tsǐ tre -- rise (to)
tsǒ, tsǐ tre -- stand up (to)
tsɔ nú ná ame -- give sth. to s.o. (to)
tsɔ̌ -- entrust sth. into s.o.'s care (to)
tsɔ̌ nú ke -- excuse s.o. for sth. (to)
tsɔ̌ nú ke -- forgive s.o. for sth. (to)
tsɔ̌ nú vá -- bring sth. (to)
tsɔ̌ nú -- carry sth. (to)
tsɔ̌ nú -- take sth. (to)
tsɔ̌ nú yi -- take away sth. (to)
tsɔ̌ ɖě le -- interested in s.o. (to be)
tsɔ̌ ɖě le -- show interest in s.o. (to)
tsɔ̌ ɖě le éme ná -- care about s.o. (to)
tu nú -- build sth. (to)
tǎ nú -- draw sth. (to)
tǎ nú -- paint sth. (to)
tǒ nú -- pound sth. (to)
tǒ nú dzi -- go over sth. (to)
tǒ nú me -- go accross sth. (to)
tǒ nú me -- go through (to)
tǒ nú ŋú -- pass sth. by (to)
tǔ agba -- untie a load (to)
tǔ nú -- close sth. (to)
tɔ̌ -- halt (to)
tɔ̌ -- stand still (to)
tɔ̌ -- stop (to)
vǎ -- come (to)
vǎ ɖó -- come to (to)
vǎ ɖó -- reach (to)
vɔ -- finished (to be)
vɔ̃̌ -- afraid (to be)
wu ame -- kill s.o. (to)
wu nú -- kill sth. (to)
wǒ -- bark (to)
wǒ -- burst (to)
wǒ -- explode (to)
wǒ aví -- burst into tears (to)
wǔ ame -- surpass s.o. (to)
wǔ nú -- surpass sth. (to)
wǔ nú nu -- end doing sth. (to)
wǔ nú nu -- finish doing sth. (to)
wɔ avu -- fight with blows (to)
wɔ dɔ̌ -- work (to)
wɔ fu ame -- maltreat s.o. (to)
wɔ kúvíá -- lazy (to be)
wɔ nú -- do sth. (to)
wɔ nú -- make sth. (to)
wɔ nú véví ame -- harm s.o. (to)
wɔ nú ɖé ame ŋú -- offend s.o. (to)
xlẽ nú -- count sth. (to)
xlẽ nú -- read sth. (to)
xě adzɔ -- pay a fee (to)
xě fe -- pay a debt (to)
xě nú -- pay sth. (to)
xǎxá -- narrow (to be)
xɔ agbalẽ ɖé fe -- take a receipt (to)
xɔ asi -- dear (to be)
xɔ asi -- expensive (to be)
xɔ dzo -- hot (to be)
xɔ dɔlélé -- become ill (to)
xɔ dɔlélé -- become sick (to)
xɔ dɔlélé -- infected (to be)
xɔ ná ame -- rescue s.o. (to)
xɔ ná ame -- save s.o. (to)
xɔ nú -- receive sth. (to)
xɔ nú da ɖí, xɔ nú ɖí -- keep sth. (to)
xɔ nú dzí se -- believe sth. (to)
xɔ se -- believe (to)
xɔ ŋkɔ́ -- famous (to be)
xɔ ŋkɔ́ -- popular (to be)
xɔ ŋusẽ́ -- empowered (to be)
xɔ ŋúsẽ́ -- receive power (to)
yi -- go (to)
yi kplé ame -- go with s.o. (to)
yi nú dzí -- continue doing sth. (to)
yrǎ ame -- bless s.o. (to)
yrɔ -- wither (to)
yɔ̌ ame -- call s.o. (to)
zi kpí -- refuse to speak (to)
zi ɖoɖoé -- keep silent (to)
zrɔ̃ -- smooth (to be)
zu nú -- become sth. (to)
zɔ -- walk (to)
zɔ mɔ́ -- travel (to)
zɔ mɔ́ tó -- pass through (to)
zɔ mɔ́ tó, tǒ -- travel through (to)
zɔ mɔ́, ɖi tsa -- go on a journey (to)
ŋlɔ agble -- clear a farm (to)
ŋlɔ nú -- weed sth. (to)
ŋlɔ nú -- write sth. (to)
ƒle nú, dze nú -- buy sth. (to)
ƒo ame -- beat s.o. (to)
ƒo nu -- speak (to)
ƒo nu -- talk (to)
ƒo nú -- beat sth. (to)
ƒo nú -- strike sth. (to)
ƒo ƒú -- be together (to)
ƒo ƒú -- together (to be)
ƒo ƒú nú -- pack together (to)
ƒo ƒú nú -- put together (to)
ƒo ʋǔ -- beat a drum (to)
ƒo ʋǔ -- drum (to)
ƒǔ du -- run (to)
ƒǔ tsi -- swim (to)
ɖa nú -- cook sth. (to)
ɖe -- throw s.o. out of the house (to)
ɖe dzo -- fetch fire (to)
ɖe dɔ̌ -- dig a hole (to)
ɖe dɔ̌ -- dig a pit (to)
ɖe gbe ná ame -- command s.o. (to)
ɖe mɔ́ ná ame -- allow s.o. (to)
ɖe mɔ́ ná ame -- permit s.o. (to)
ɖe tɔmelã, ɖe lã -- fish (to)
ɖe vǐ -- profitable (to be)
ɖe vǐ -- yield profit (to)
ɖeɖi té (ame) ŋú -- tired (to be)
ɖi -- cheap (to be)
ɖi -- ripe (to be)
ɖi tsa -- go for a walk (to)
ɖi tsa -- go on a trek (to)
ɖi tsa -- take a walk (to)
ɖu fia -- reign (to)
ɖu nú -- bite sth. (to)
ɖu nú -- eat sth. (to)
ɖǐ ƒo -- eat to one's satisfaction (to)
ɖǒ ame fia -- crown s.o. (to)
ɖǒ ame fia -- enstool s.o. as chief (to)
ɖǒ aɖaŋu ná ame, -- advise s.o. (to)
ɖǒ dze -- converse (to)
ɖǒ nya ŋú -- answer (to)
ɖǒ nya ŋú -- reply (to)
ɖǒ nú ná -- tell s.o. to do sth. (to)
ɖǒ ta -- go towards (to)
ɖǒ ta -- head towards (to)
ɖǒ tó -- listen (to)
ɖǒ tó -- obey (to)
ɖǒ ŋkeke -- set a date (to)
ɖǒ ŋkeke -- set a day (to)
ɖǒ ŋkú nú dzí -- remember sth. (to)
ɖǔ ɣe -- dance (to)
ɖɔ̌ azi -- lay eggs (to)
ɣlǎ nú -- hide sth. (to)
ʋẽ̌ -- stink (to)
ʋli nú -- dispute sth. (to)
ʋu -- shine (to)
ʋu nú -- open sth. (to)
ʋẽ nú -- smell sth. (to)
ʋẽ nú se -- smell at sth. (to)